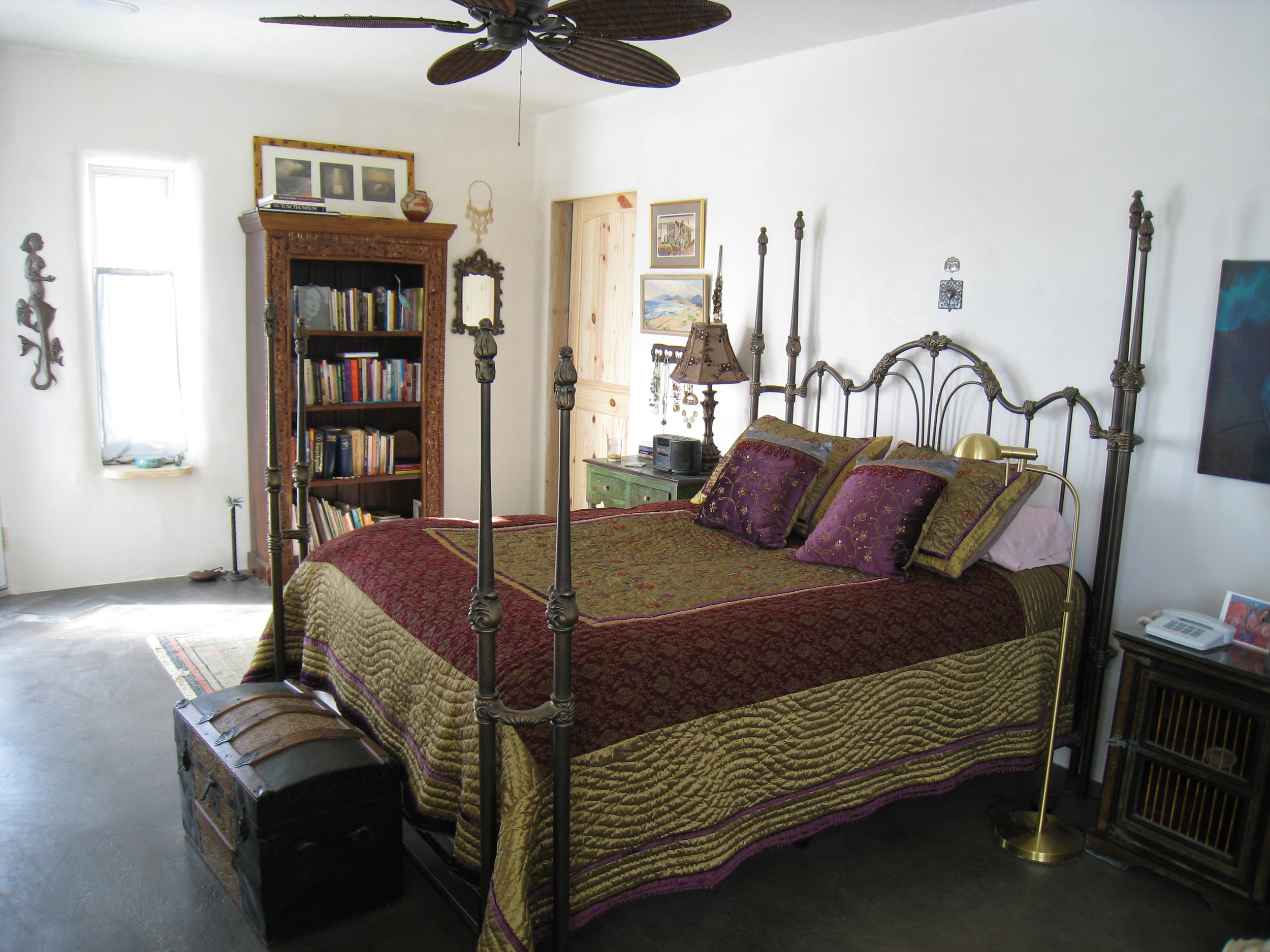 Big Sky
A 2-acre tract several miles north of Taos is site for design and new construction of a Pueblo-style adobe home. We developed a progression of spaces that refer to the colloquial practice of adding a new room as a family grows. The great room with kitchen, dining, and living space starts the conversation. Here is the view west.
Dressing Table, Master Bedroom
This charming dressing table and Tiffany lamp are family pieces. The windows face south toward the Town of Taos.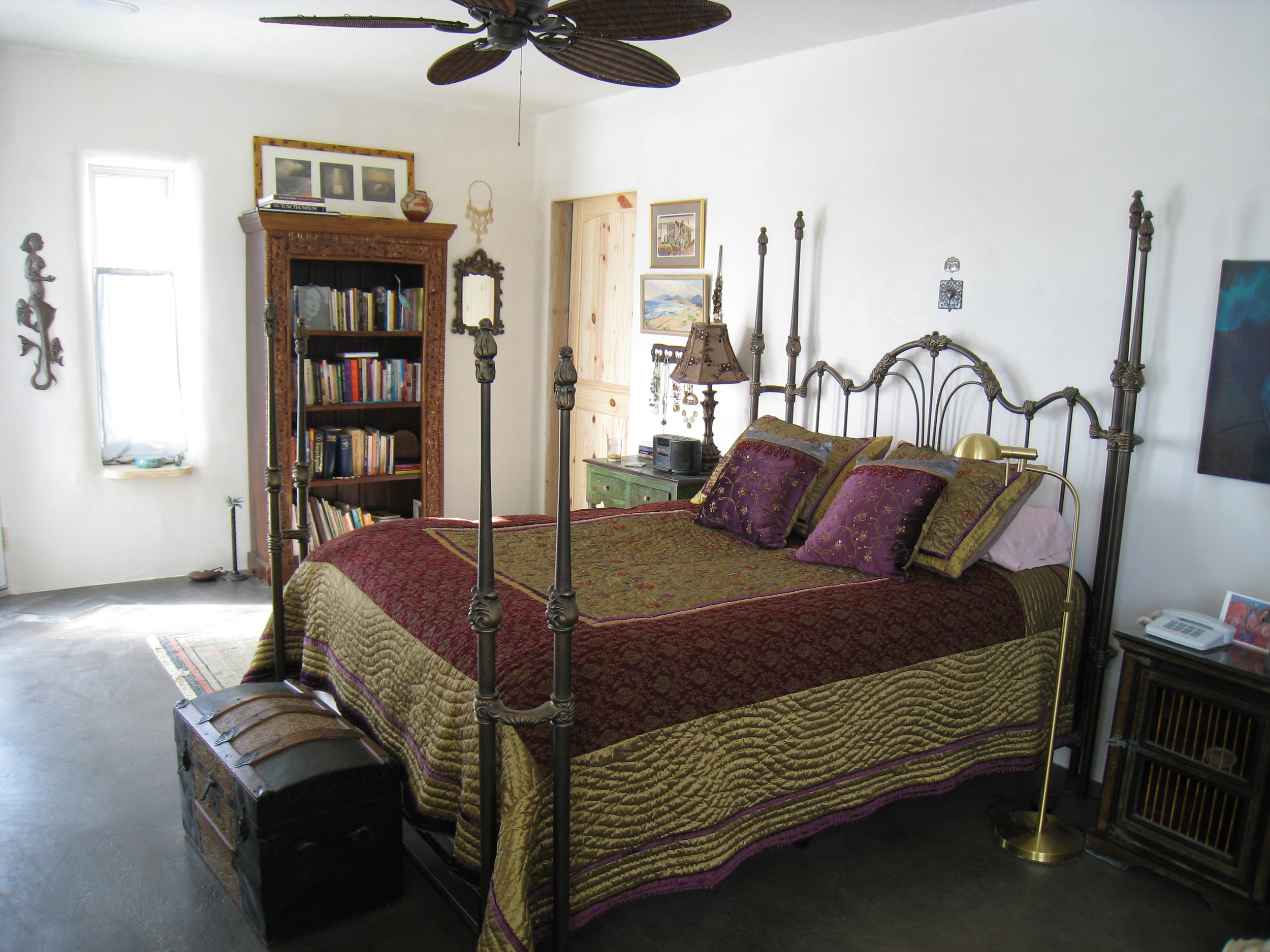 Master Bedroom
Simple, jewel-tones. A family chest and an East Indian bookcase.
Enfilade
The great room window faces an inner courtyard which aligns with windows in the painting studio and the mountains beyond to the north.
Spirit
The client's love of great open spaces and expansive vistas inspired this home. The Great Room, looking north toward the dining area, kitchen, and breakfast nook. The foyer is at right, at the rear of the photo.
An antique baby's crib houses a collection of blown glass paper weights. The custom wooden arch was hand-carved and embellished with semi-precious stones and fetishes specific to the client's wishes.
Studio and Guest Room
A large painting studio with french doors leading to a patio faces the Rio Grande Gorge to the west and the Rocky Mountains to the north. The home was tuned to the cardinal directions and the spectacular views.
Sitting Area
The view west toward the Rio Grande Gorge and Tres Piedras from the sitting area during construction. Double-course adobe wall construction.
Sitting Area
The kiva fireplace, the view west onto native american land and the Rio Grande Gorge, and cozy furnishings make this a favored spot.
Kiva Fireplace
We chose an iridescent 2"x2" tile to highlight the kiva fireplace surround. Simple, effective, and stylish.
TV Room
A quiet, small room with a convertible sofa for extra guests.
Western Facade
We placed the home on the western edge of the site close to native American land that will remain grazing land for horses, ensuring clear and open vistas. Taos Mountain is directly east. The Rockies to the north.
Breakfast Nook
A tiny space facing east, the rising sun, and Taos Mountain.
Kitchen and Bar
Built for entertaining. Easy, clean, open, with a custom copper exhaust hood centered in the space.
Dining and the Great Room
Eleven foot ceilings make the space feel grand. The pillars and arch create a visual break from the kitchen and dining area into the sitting area. Trasteros, antique Mexican barstools, and soft weavings bring a warmth into the open space.
The Working Hall
A custom cabinet fitted with a farmhouse sink faces the inner courtyard and the views west. The perfect place for gardening supplies. The main hall spans more than 60 feet and aligns with the north/south axis. The windows beyond point north. An attached two-car garage is at right.